We have something in store for women and girls of all age – For the teen fashionista, we present fun hairstyles which will give a novel twist and styling to their long hair. Whether it be the new year of the school or a fun outing with friends, we bring to you sassy, cool and fun hairstyles.
From easy to do, quick-on-the-run hairstyles to dressy and pretty hairdos, we bring them all for the benefit of our teen fashionistas. After all, a good hairdo adds pizazz and fun to your wardrobe. It also accentuates the beauty of your face and highlights the fine features.
The Loose Side Braid Hairstyle
On busy mornings when you are in a fix whether to look good or reach early to school/college, these types of loose side braid fun hairstyles shall be your savior! It does not require bows, pins and fancy knots to do it up. Instead, it is all about the loose yet fashionably messy hairstyle which suits your tousled hair in the early mornings. Just push your hair to one side and start braiding it lightly from much lower than the normal level. Voila! You are ready for the day with a laid back yet stylish hairdo!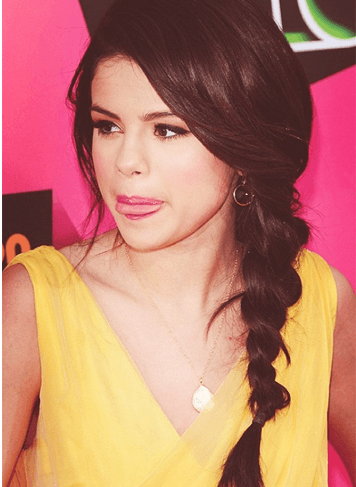 Braided Twist Hairstyle
For the soft and classy look, opt for this hairstyle which will make you look pretty, elegant and charming. Take the front pieces of your hair into two neat braids. Next, take these two braids to the back of your head and make a new braid out of them! Twist this new braid into a pretty and graceful bun. Hairstyles for Girls can be given an added touch of class, by wearing different accessories, ribbons and so on.
Bouffant Hairstyle
A popular hairdo in the sixties and seventies, this will jazz up your outfit with a hint of retro. You could put on those retro style, big shades and sport scarlet lips to look like a beauty from the yester years of Hollywood cinema.
To make this hairstyle, just pile your hair on top of the head and give it a mini beehive look. Run your hands through the hair and tease it up to give your hair volume and fluffiness.
Triple Chevron Style Hairstyle
This hair will give a classic and elegant touch to your face. Its pretty layering and arrangement will bring out the young lady in you.
To don this look, do a middle partition on the hair and separate the right side front section. Do the same again on the left side. Now twist both the sides, pull both together at the back and slide clips to keep them intact in the position. Next, take the hair sections below and repeat the same process again.
Again look for sections below the above 2 and repeat the above process. With three twisted rows, you can pull your hair behind and fasten it tight with bobby pins.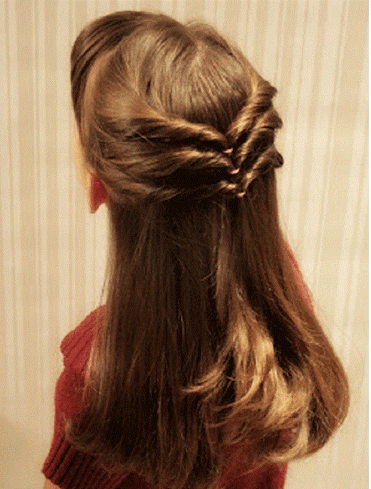 Ballerina Buns Hairstyle
Long Hairstyles, for Girls also include buns. Look as pretty and lovely as a dancing, graceful ballerina! These buns are easy to whip up in no time – First make a ponytail and comb it thoroughly after making it. Then twist and wrap the hair  gently around the ponytail's base. Make sure it stays there with the help of bobby pins or an elastic band.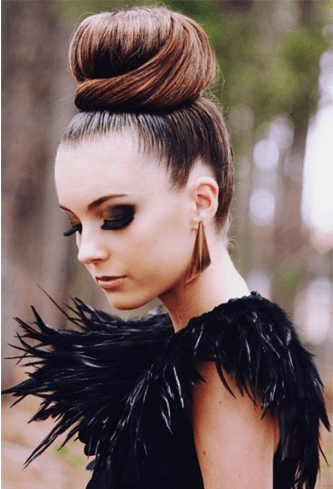 Layered Look Hairstyle
A popular hairstyle which is in vogue this season is the layered look! For hairstyles for teenage girls with long hair, this haircut works well and makes you look chic and trendy. Go for classic long layers which start from the chin and go all the way till the end. Feather cut hairstyles are definitely a thing for young girls.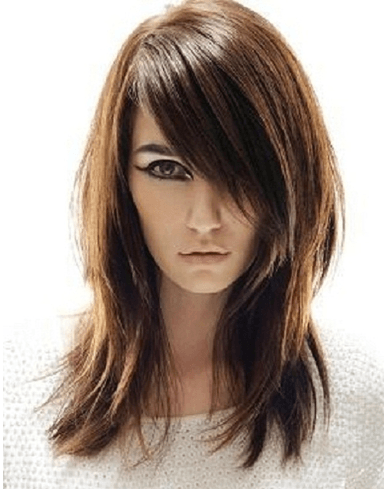 Hope you enjoyed these hairstyles fit for a variety of occasions, moods and times! You can always experiment with your hair and whip it up into interesting styles. Whether it be making a bow out of a soft vintage scarf or a bun clasped by a bejeweled clip, be sassy, stylish and a gorgeous teen