To look different and yet super glamorous, chic and very sexy, try the various looks of copper eyeshadow. The sultry look comes by when you learn how to blend the copper eyeshadow, maybe with a touch of glitter and smudging it up with dark kohl. The best part of wearing eye makeup with copper eyeshadow, is that it works well with any color – clothing wise. So without much ado, and if you need more help on how to wear copper cream eyeshadow, copper glitter eyeshadow, copper brown eyeshadows, we have seven amazing ways to show you.
5 Ways On How To Wear Copper Eyeshadow
1. Smokey Copper Eyes
To make the party look come through with a hint of metal on your makeup, look at this unique copper eyeshadow tutorial for the party night. The focus here would be the whole eyelid bathed in slight shimmery copper textures to give the eyes a crunchy feel. To enhance the look of the eyes, one should stick to the traditional eyeliner flicks; if you are good with eyeliners, a double eyeliner trick can help oomph up the look.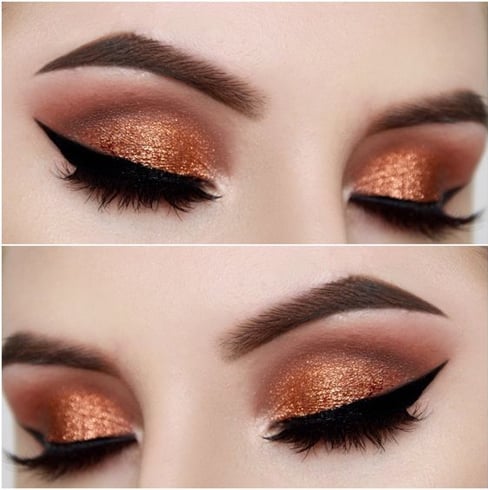 2. Cat Eye Copper Eyes
Let's amalgamate the cat eyeliner with the copper eyes. Should your ensemble be pure ethnic, pairing up the cat eyeliner with copper lids can be the best thing to do. The look comes about as chic and sensual for sure, and if you can have green eye lenses worn to create a sassy look; the copper eyeshadow green eyes magical saga happens – you can wear this look with hazel or grey eyes too.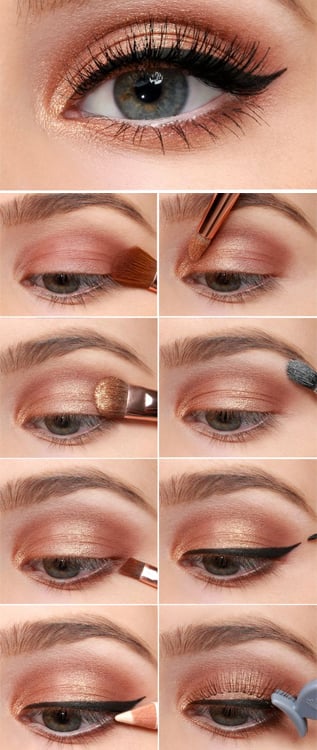 3. The Sunset Gold Copper Looks
Using the makeup rule of the book with any eye shadow color – light inside and dark outside on the eyelids, we would use light copper eyeshadow from the inner corner of the eyes to the mid section of the eyes; the mid section to the outer corner of the eyes would be bathed in light gold tones, with an angled eyeliner to make the oomph effect come through.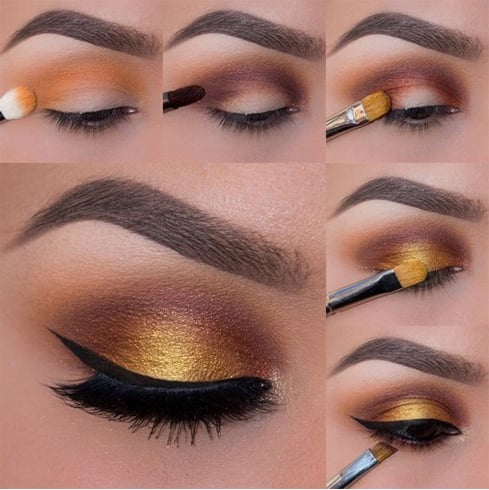 4. Dusky Copper Eyes
Much on the lines of the smokey eyes, the dusky copper eyes can be a dramatic eye makeup saga to beam the eyes with. Hints of peach color pigment can be used under the brow bone and the inner corner of the eyes, along with the lower lash line. And the copper shade should be dabbed onto the rest of the lids.

5. Crease Copper Eyes
For a little more drama than the usual, crease copper eyes for the night parties can be worn. This would be a faded-out look, which can be a statement to make with Indian wear. The copper eyeshadow that blue eyes, green eyes or brown eyes can wear is very versatile. With dark liner lining the crease to the outer eyes and the lid on top with a soft V created on the outer section of the eyes – the soft V needs to be smudged!